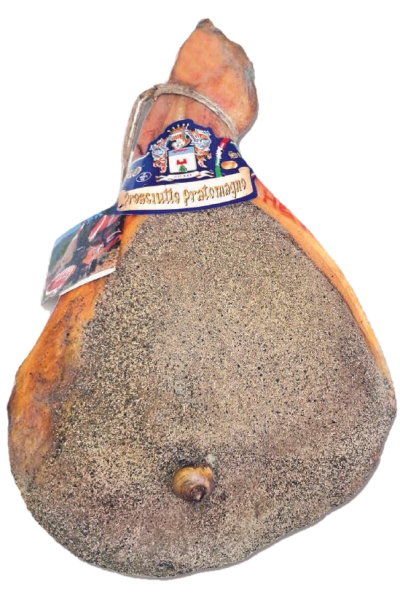 The PROSCIUTTO PRATOMAGNO is the only dry-cured ham without "anchetta" (a small bone locates to the side of the femur), obtained from selected pork tights which were born, bred and slaughtered only in Italy.
The PROSCIUTTO PRATOMAGNO is also recognizable and distinguished externally for its typical characteristics such as the V cut of the pork rind, the superficial coating exclusively with "Tellicherry Garbled Extra Bold" black pepper, the "PROSCIUTTO PRATOMAGNO" rear iron brand inclusive of the production start date, the particular band.
On the palate, the PROSCIUTTO PRATOMAGNO is recognizable and distinguished for its sweetness, aroma, tastiness and naturalness (additive and preservative free), all features that have been always created pleasant sensations to everyone has had the pleasure to taste the PROSCIUTTO PRATOMAGNO.